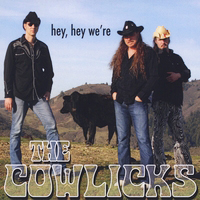 Fall 2009:
Reviews for The Cowlicks latest CD Hey, Hey We're the Cowlicks
Hey Hey We're the Cowlicks was #25 on 3rd Coast Magazine's Freeform Americana Roots chart for July!
"Holy cow, man! How come The Cowlicks aren't famous? 'Hey Hey We're The Cowlicks' is the finest Americana recording to come out of the SF/Bay Area music scene in a long, long time. No Monkee business here, just lots of great singing, writing, twanging guitars and sweet emotion. Go and watch them sing and play!"
Larry Carlin, California Bluegrass Association & Carltone's Corner
"Keep on lickin' fellers, What a great CD..Fun Lyrics and as always HOT pickin' !
Cow-abunga indeed.. "
Unkle Sherman KPIG Radio 107.5 Freedom CA
"The new CD "Hey Hey We're The Cowlicks" just blows me away! One great song after the other, and these guys have once again taken things to the next level. Such a keeper. Love these guys!"
Wesley Robertson KVMR Radio 89.5 Nevada City, CA

"The Cowlicks have always been good, but their new CD, 'Hey Hey We're the Cowlicks' is even more gooder. The core group of Todd Novak, Mike Anderson, and Dan Newitt, along with special guests, have really gelled into something that could only be described as great! I highly recommend this for the Alternative Country fan...5 Moo's"
Oscar Hox KFJC Radio 89.7, Foothill College, CA
"The Cowlicks are a perfect example of the crazy, wonderful things that can happen when you put guys and guitars together. Their latest release, Hey Hey We're the Cowlicks is a rockin' good country road trip, with Ralph Stanley, Jimi Hendrix and Aerosmith along for the ride, backed by a soundtrack of original, twangy, dastardly clever tunes. Have a Cow!"
Chuck Poling/ California Bluegrass Association
"The best one yet! Two great covers, along with 10 wonderful original tunes. All top notch songs."
Jon Berke KALX Radio 90.7, Berkeley CA
"One of the best cd's I've heard in two years. Jimi to the Bee Gees and finishing off with Aerosmith. How can they keep doing it? I believe in the Great Manjo."
Tim Adelman, Prog. Dir. KKUP Cupertino.
"Bootliquor gives The Cowlicks Hey Hey We're The Cowlicks a warmly intoxicated four empty whiskey bottles out of 4 rating"
Roy at Bootliquor Internet radio
"The Cowlicks are a boot stompin' whiskey jar swilling, psychedelic rodeo!"
Chris Davison FLIKTRAX music liscensing
"AMAZING NEW CD! I just picked up my copy and I really love it! THE COWLICKS are one of those bands that simply can't be defined by the limits of any single musical genre - they do it all; hard-core country classics, blistering classic rock covers in a country-rock style, banjo pickin' bluegrass numbers, and foot stompin', beer drinkin', laugh out load alt-country tunes."
Shelby Ash, Shelby Ash Presents/The Music Store S.F., CA
"A paisley blowtorch blast of countrified surf, invictive filled ramblings (but with a good beat you can dance to), and tall tales from the depths of the hills. Oh yeah, and a couple of covers from unexpected places. This is a good 'un! The only thing better than this Cowlicks CD is seeing them live."
Lance Walker, Petaluma Church Concerts

June 28, 2006
Quote from the BBC radio show "Trailer Star's Lounge", available via podcast from Flyinshoes Radio:
"Can't resist a track called Psychedelic Service Station. They're off their trolleys. Love 'em for it!"


What California DJ's are saying about Psychedelic Service Station (2006):
"I think this is the one that is going to push them into the bigtime. I hope so, they deserve it."
–Peggy O' of KFJC's "Out Behind the Barn"
"Psychedelic Service Station reminds me why I love these guys! Gram Parsons would be proud! –Wesley Robertson of KVMR's "Rockin' and Stompin"
Download the press release for Pychedelic Service Station (pdf)

Review of The Cowlicks second CD "Pyschedelic Service Station" released April 2006
"Is it possible to run a twangy Dobro sound backwards and blow folk's minds? The Cowlicks say "yes!" and prove it on the title track of their second album, Psychedelic Service Station. While this track sounds a bit like They Might Be Hillbilly Giants, The Cowlicks aren't going for the hardcore mindbending action you might expect with a title like this. But there are just enough off-center moments and clever pop diversions as to tweak your sensibilities. Throw in the occasional twangy retro country number or jangle-pop ditty and this Bay Area countrified skiffle group have whipped up a good time. And quite nice is the their roots-pop take on The Beatles' "Sexy Sadie" and the rollicking twang-spun cover of Alanis Morissette's "Hand In My Pocket" that bring the album to its heady conclusion. This supergroup's members include bassist/vocalist Mike Anderson (Big Blue Hearts), drummer Peter Tucker (The Waybacks), pedal-steel and Dobro player Dave Zirbel Mother Truckers), guitar/mandolin/banjo player Michael Hanna (elementary school music teacher!!), and songwriter/lead singer/guitarist Todd Novak (The Schramms)."
-- Robinson, Miles Of Music

Critic's Choice for the week of March 16-22, 2005 "Our writers tell you what's hot this week."
COUNTRY TEASERS
The rip-roaring and shin-kicking Cowlicks -- past Bay Area Music Award winners for Best Country CD, beating out Merle and Buck -- unplug for an O Brother-style night at Albany's Ivy Room Saturday. Known for their fine original songs with country harmonies and twanging guitars, the 'Licks add to the fun this time with countrified covers of tunes by Gram Parsons, Black Sabbath, and such. Guest players include Dave Zirbel of the Mother Truckers on dobro and Eli Smith of Jug Free America on banjo. Sharing the stage is Mother Truckers offshoot band Chrome Johnson, offering some Ennio Morricone spaghetti Western-style tunes. 510-524-9220. (Larry Kelp)


Friday, July 2, 2004
Berkeley: Cowlicks take the bull by the horns to corral a spot on the alt-country music map
Rick DelVecchio, Chronicle Staff Writer

--------------------------------------------------------------------------------
Although they hail from Berkeley, The Cowlicks are more than an urban cowboy band. Together just three years, the alt-country rockers made true on their slogan ("Merle's going down") to beat out Haggard and other country veterans to win a California Music Award for their first album, "CWA (Cowboys with Attitude)." Their logo (right) packs plenty of attitude too.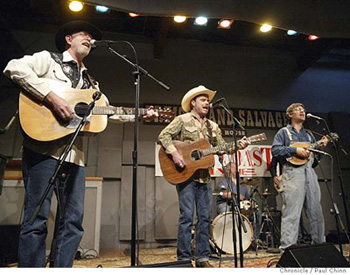 It's been a short, fast ride for The Cowlicks, a band born in Berkeley three years ago and now the owner of a California Music Award for best country/alternative country album of 2004. In elections last month involving some 30,000 votes cast online and in person by listeners across the state, the band's self-released "CWA (Cowboys With Attitude)" beat out albums by five other acts, including country icons Merle Haggard and Buck Owens.
The award was a surprise but not really an accident. The group's leader, Todd Novak, 42, doesn't seem the type to leave much to chance.
Maybe it's the influence of Novak's tattooed ex-Marine truck-driving music-loving dad back in southern Ohio, who taught his boy not to be late for work. Or maybe it's that Novak prizes his independence after having once worked for a record label that made it all seem like magic and pocketed all but 80 cents of every copy sold.
"We really worked trying to get votes," said Novak, the band's lead singer, songwriter and manager. "That's the only reason I didn't have a heart attack when I won. I realized how hard we'd worked, and some of these guys probably didn't work at all."
The Cowlicks even had a campaign slogan, aimed at the towering Haggard: "Merle's going down."
Novak looks real good 'ol boy with his beat-up straw hat, pearl-buttoned floral shirt, jeans and $10 used white cowboy boots that he jokes might have belonged to some dead guy. The case for his custom-made mahogany guitar is covered with denim -- the last one in a line made in honor of folksinger Arlo Guthrie.
Make no mistake, though. Novak is a journeyman musician who has recorded and toured since he was a kid, tested Manhattan, the Midwest and California and worked in styles from hillbilly to ska to Ventures-style surf guitar to Brian Wilson pop. And now he's come to the point where he's ready to get busy with nothing but sweeping his own path. No bar bands, no labels like the major outfit Novak worked for when he was writing and recording surf rock in New York in the late '80s.
With Novak, one gets the impression that the whisk broom he keeps handy in his spanking-clean camper van is as vital an implement as his guitar.
Novak's musical mind also has an economy to it, which is a useful quality to have in a genre as open-ended as alternative country.
The raw materials of alt-country are the twang and whine of American roots music and the jangle of country rock. Musicians combine them in all kinds of ways, including blues, metal and punk. Novak calls his version "heavy western."
His main musical model is Gram Parsons, the former Byrds guitarist who is considered the originator of country rock. But he's also influenced by the Ventures, Stephen Stills, NRBQ, Electric Light Orchestra and Elvis Costello. He likes trying odd combinations, like playing the Beatles' "Getting Better" on ukulele. Lately, he's been listening to Loretta Lynn's CD "Van Lear Rose," with original songs by the 70-year-old coal miner's daughter and guitar settings by rocker Jack White of The White Stripes. For Novak, the flavors of Led Zeppelin and the Grateful Dead on the cheatin' song "Portland, Oregon" somehow make Lynn's coal dust taste all the more real. That a CD with a tune like that on it is a big seller makes Novak feel he's in the right business.
"This song by itself makes the rest of my life doing Cowlicks music a lot easier," he said.
Novak's own sounds are more blue skies than coal dust but mix in the wistfulness of Midwestern summers, with power lines, flat tires and tree houses, and Bay Area winters cooped up in the rain. He recently moved from Berkeley to the South Bay and is married to a former Broadway singer and dancer who changed careers to work in Silicon Valley.
The Cowlicks avoid the alt-country pitfall of cutting and pasting from different sources without making a point. Credit short, structured songs and the skill of the four Northern California veterans behind Novak -- guitarist Doug E. Blumer of San Francisco, mandolin virtuoso Michael Hanna of El Cerrito, bassist Mike Anderson of El Cerrito and drummer Peter Tucker, who also lives in the East Bay. They can put honky-tonk guitar and vocal harmonies out of the '70s British pop band 10cc side-by-side and come up with something believable.
Novak looks to be staying in the Bay Area awhile. Fans here seem to be ready for what alt-country has to say.
Mark Hargraves, a clerk at Down Home Music in El Cerrito, where Novak works part time, said alt-country has exploded in recent years. It's a reaction to the highly produced music of the 1990s and offers listeners a relief from the fast pace of life while appealing to knowing musical tastes, he said.
The East Bay alone has not only the fans but also the musicians, the history and the technology Novak needs to move ahead with his sound. He can capture an odd musical flavor from one of the performers who stop by Down Home Music -- a Bulgarian accordionist was one of the most recent -- then go to Emeryville to have his tunes recorded on some of the world's most sensitive equipment.
Novak has an enviable deal with the Expression Center for New Media, a private school that teaches students digital visual media, sound arts and digital graphic design. The Cowlicks is one of the bands picked for advanced students to get experience making a record. The band made "Cowboys With Attitude" in Expression's top-line studio.
The Cowlicks just finished recording 11 new tunes at Expression. Novak plans to work them into a concept album, like the Beatles' "Sergeant Pepper" or The Who's "Tommy."
Meanwhile, he is pouring out new songs. He has three going at a time. He writes them on guitar and usually the lyrics come to him all at once while he's jogging.
"I have a lot of energy," Novak said, "and I've never been a screwup."
--------------------------------------------------------------------------------
Shows scheduled
The Cowlicks will perform at KFJC's Foothill Stomp, 1-5 p.m., July 31, Mulligan's Pub & Grill, 2650 Broadway, Redwood City. (650) 364-5600. $5 suggested donation. Visit www.thecowlicks.com.
E-mail Rick DelVecchio at rdelvecchio@sfchronicle.com.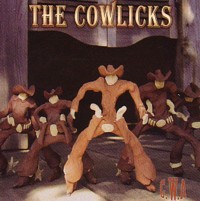 The Cowlicks announce the release of their debut CD "Cowboys with Attitude"
The Cowlicks, a San Francisco Bay area alt-country band, were voted "Best of the East Bay 2003" by the East Bay Express who state: "The Cowlicks ooze twang easily, and are unpretentious to a fault. They can write the catchy hell out of a song." Brad Kava of the San Jose Mercury News says: "This isn't just pure countrified roots music: the song writing is so good, and the playing so intense, you think you are hearing a rocker who could be the next Tom Petty or John Mellencamp. Great licks through and through..." The Cowlicks debut album, "C.W.A.," includes 12 original songs and an additional live acoustic cut. The CD artwork features sculptures and hand-tooled leather work by Gerry "The Maestro" Gaxiola, star of Les Blank's film "The Maestro: King of the Cowboy Artists." read more...


Sunday, May 2, 2004
Arts & Entertainment, page 4E

The Cowlicks "C.W.A.'' self-released
by Mark Whittington
Cowboys. With attitude. From the Bay Area? Cue up those old Berkeley Farms ads.
Still flying under the mainstream radar, the Cowlicks deserve their strong reputation among local alt-country fans. "C.W.A.'' - which has been nominated as Outstanding Country/Alt-Country Album in the California Music Awards - is their official debut, not to be confused with a great self-titled demo that was floating around earlier. "C.W.A.'' is more alt- than country; more Roger McGuinn, less Gram Parsons (in fact, the band does a hootenanny happy cover of ""Mr. Spaceman''). If you're a fan of jangle pop, this could be your ticket to a joyous spring.
Just be careful. Hiding under their "Maxfield Parrish Sky'' is a broken-hearted hombre thinking about swallowing his gun.
If you are interested, check out www.thecowlicks.com, www.milesofmusic.com.

THE COWLICKS





C.W.A. (Cowboys With Attitude) ... (self released)
Alt/Country without the angst is how best to describe Cowboys With Attitude. Attitude, yes the Cowlicks have got it, but not as in the word's current negative usage. Their attitude is that music, and life, can both be a lot of fun, and it shows in what is generally an upbeat and melodic piece of work. Even a song like "Stupid Girl", not a take-off on the Jagger/Richards tune, has a lilting appeal to it, not at all like it's malicious namesake. There's a ton of musical experience behind this band; some of these guys were around when I still had one of those damned cowlicks in my hair. Mine's been gone these many years past, and I prefer this kind, anyhow; the bounce is a lot better. This is perfect music for an Okanagan summer day, when the weight of the world takes a break from bearing down upon your shoulders, with nothing more pressing than soaking up the sun and a few wobbly pops with your friends. Sometimes all that we ask of our music is that it entertain us, and make us feel good. CWA does that in spades, and, there's some pretty cool artwork on the sleeve, to boot.
The Cowlicks' site. Order from Miles of Music. Released March, '04, reviewed by Don Grant.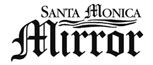 From Up the Coast to Down Under
March 17, 2004
By Tony Peyser

The Cowlicks, which suggests something that normal grooming can't contain, is a good name for a band. C.W.A. - which stands for Cowboys With Attitude - is an even better title. And what a swell album it is. This Bay Area band delivers country and alt-country goods but there's a sweetness of melody and harmony that's as good as any power pop I've heard lately. I'd compare them to other folks I've written about like The Cash Brothers who are still together and The Delevantes who aren't. "Maxfield Parrish Sky" will linger in your mind like images from that artist's paintings. And The Cowlicks' cover of Roger McGuinn's "Mr. Spaceman" has a laid back feel from its conversational asides to letting the mandolin soar out towards the heavens. ...


March 2004

"C.W.A."
(In eigen beheer uitgebracht!)
(3,5) J J J J



ENGLISH TRANSLATION: We were very much pleased by the second album of The Cowlicks, a group from San Francisco bay, they are 5 musicians. The members are known from several groups like the Schramms, the Beau Brummels, and the Westerleys. C.W.A is not pure hard country rock.The title of the record could indicate that their strength lies in nice pop roots and rock songs with nicely twanging guitars. You could compare them a bit with Tom Petty or the Byrds, maybe a bit more country.The most important person is Todd Novak who does the lead singing and writes most of the songs. The exceptions are "Bessies Song" and the Byrds cover "Mr. Spaceman." The best songs on the album are: the crisping rock song "Stupid Girl", "Drawn" and especially "Sea of Grass" and "Stateline". Irresistible mandolin and guitar picking makes the song "Sea of Grass" a real beauty, especially as a summer song C.W.A OR C.W.S as far as we are concerned would be a better name. Cowboys with songs, very good songs indeed.

Dino Della Casa
2/03/2004

ENGLISH TRANSLATION: "The sound played by this supergroup is nothing but great, honest, rough-around-the-edges country-rock, with the classical vocal harmonies featured in the golden days of this genre, located in the early '70's California..."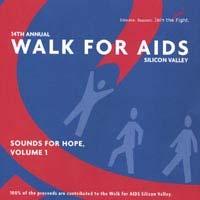 Published Wed, Nov. 05, 2003
"... an amazingly strong and diverse collection of music by unsigned artists from the Bay Area -- mostly the South Bay...
Some standouts: The Cowlicks' guitarist Todd Novak is a clerk at Rasputin Records on Bascom Avenue. He recognized me from my column picture and handed me his demo CD, a regular occurrence in this job. But instead of landing on the leaning pile of discs in the living room, this one made it into my car stereo. By the time I reached the office, I was a Cowlicks fanatic.

The songwriting was so sharp and focused, the performance so tight, the harmonies so smooth, I couldn't believe this was a band that still had day jobs. This quintet, which includes former Waybacks drummer Peter Tucker, is equally comfortable with Hank Williams-inspired country and Petty-flavored rock. The group's contribution, ``Stateline,'' is a mid-tempo road song that could be an FM rock radio standard..."

Read the rest of the article...

Click here to buy a CD and 100% of the proceeds will go directly to Walk for Aids Silicon Valley, a cause close to all of our hearts.


Best Of EastBay 2003
From eastbayexpress.com
Originally published by East Bay Express May 07, 2003
©2003 New Times, Inc. All rights reserved.
An Hour Before Closing Time, Saturday:
Best Music to Put Some Twang in Your Thang

The Cowlicks

They're not as fashionable as the Court and Spark. They're certainly not as pretty as the Boot Cuts. And Red Meat outbuzzes them a hundred to one. But the Cowlicks ooze twang easily, and are unpretentious to a fault. They can write the catchy hell out of a song, whether a lovelorn ballad (of which they have many) or a good ol'-fashioned drinkin' holler (a few of their lovelorn ballads do double duty as one of the latter). The quintet features lots of formers: a former Wayback; a former Dave Schramm and Kevin Salem cohort; and a former touring guitarist for Lyle Lovett, the Blasters, and Chris Isaak; not to mention a mondo-eclectic mandolin/banjo player and a pair of beards that could make ZZ Top run yelping for the Barbasol. The Cowlicks have a self-titled, self-released full-length you can get at DownHomeMusic.com, and they play out often at venues like the Starry Plough and Thee Parkside. Check 'em out before they start wearing spangled suits and covering "Rag Mama Rag" instead of "You Shook Me All Night Long."



The Cowlicks are played regularly on KFJC by Oscar Hox, Dangerous Dan, Peggy O, Big Myke Destiny, and Joe Ed Dick.

Phil Dirt plays The Cowlicks on his radio show "Surf's Up" on KFJC. He reviewed The Cowlicks on his web site Reverb Central and gives four stars to The Cowlicks "Cowboy Surf Instrumental" version of Sloop John B:
"The Cowlicks are the cowboy incarnation of Todd Novak who's name you might recognize from his East Coast band the Dragsters. 9 original modern country epics precede a long surfable instrumental treatment of "Sloop John B."
Picks: Sloop John B.:
Damped reverb rhythm gently opens this tropical cowboy rendition of "Sloop John B.," a song with a surf tradition from both Dick Dale and the Beach Boys. Vibrato guitar plays the main melody verses, while fine country tones flow over the exotic percussion. This is a highly original arrangement that rides the waves just as easily as it rides the cactus desert dunes. Excellent!"
-- Phil Dirt of KFJC on his website Reverb Central

Arts & Entertainment - cover page
Posted on Sat, Apr. 26, 2003

1, 2, 3 Go! Three reasons to see the Mother Truckers and the Cowlicks
1. This is your chance to catch what is very possibly the next big thing! These are more than great alt-country bands with alt-country names: They have major pedigrees. The Mother Truckers' Janis-like singer, Teal Collins, is the daughter of famed jazz disc jockey Al ``Jazzbeaux'' Collins and has recorded with alt-rockers Third Eye Blind. She can really belt it out.
2. Cowlicks songwriter Todd Novak made an MTV video, ``Live It Up,'' with his New York ska band, Cryin' Out Loud, and played with Kevin Salem of Dumptruck, opening for the likes of alt-country gods Wilco, Uncle Tupelo and the Jayhawks. More important, this guy's songs are so snappy that you might forget you are hearing country and think it's Tom Petty's stuff.
3. When musicians have been on the road this long, working this hard, in a genre that is never going to make them rich and famous (unless they are the Dixie Chicks and can keep their political mouths shut) then you know they have to be doing something right, like making great music.
8 p.m. Sunday; Moe's Alley, Commercial Way, Santa Cruz; $15; (831) 479-9421; snazzyproductions.com
-- Brad Kava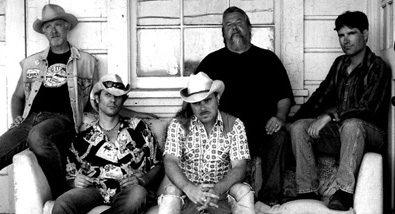 THE COWLICKS' country sound is refreshing.

Think globally, listen locally to great music
Published Friday, Oct. 24, 2003

by Tony Hicks

· The Cowlicks:
Twangy, breezy country played by guys who look like they hang out with the Allman Brothers. Believe me, that's an important measure of legitimacy. Way more musicians should try looking like the Allman Brothers.

More should also try to sound like this. The Cowlicks play country with the sort of John Phillips melodies that launched the California sound more than 30 years back. Not often enough do bands trying to master country actually include real melody. The playing is laid-back and top-notch as well, without anything being forced. It's all pretty legitimate, despite one of the members having big hair in the '80s. It's OK, Mike. We all did.

I should have written this item a few weeks early, in time for the band's big performance at the Starry Plough's 30th anniversary show. But they do have something coming up at the San Gregorio General Store from 2-5 p.m. on Sunday ... if any of you out there happen to be in San Gregorio. Otherwise, check out their Web site at www.thecowlicks.com.
CD Review in Bay Area Buzz - May 2003 Issue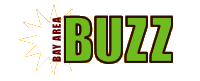 The Cowlicks The Cowlicks (self-released; www.thecowlicks.com)
Seems like you can't swing a sheep around the Bay Area without clobbering at least a couple of overly-talented country pickers waiting around in one welfare line or another. The existence of The Cowlicks, made up of former members of the Big Blue Hearts, The Schramms, and other ensembles, is testament to the hidden hillbilly talent bubbling up under our concrete-paved paradise. Their new self-released CD demo shows a wealth of picking and penning power, strengths that ache for a full-budget production that can tighten their sound and punch things up a bit. The best songs on this album, such as "Stateline" and "I Love It When It Rains," are clever, well-crafted novelty-tunes that fall squarely in the tradition of independent, smart-alecky honkytonk, which makes the Americana scene so much fun. The band has been gigging relentlessly over the last few months: look for more to come from these East Bay twangsters, and keep an eye peeled for their concerts. --Lawrence R. Kay
Critic's Choice for the week of December 11-17, 2002
This week it's not all about bEASTfest -- but it's mostly about bEASTfest.
BY STEFANIE KALEM, JASON SERINUS AND JESSE "CHUY" VARELA

bEASTfest PICKS
Saturday, December 14
The Starry Plough (3101 Shattuck Ave., Berkeley, 9 p.m., 21+, $7):
Todd Novak's musical meanderings have taken him all across this nation, rubbing shoulders and strings with Alejandro Escovedo (back in his Rank 'n' File days), Dave Schramm, Kevin Salem, Syd Straw, and a half-dozen other obscure luminaries. Nowadays he calls Berkeley home, and has since late 2001 led a quintet called the Cowlicks, who have in common with their namesake a natural adherence to curve and bounce. And like the waves in the Duke Boys' hair, the Cowlicks are just good ol' boys, wouldn't change if they could, wrangling the slide guitar and mandolin like, erm, five modern-day Robin Hoods. The Moore Brothers, also appearing tonight, are simplicity personified, armed with no more than an acoustic guitar and enough harmonies -- the brotherly kind that spoon and shimmer -- to make your eyes water. Garth Steel Klippert and Boatclub also perform. (S.K.)

Living on the Edge of Country
Thursday, July 3rd 2003

By ANDREW GILHOOLEY
411's music writer
"The Cowlicks are currently riding high, having been voted 'Best Music to put some Twang in your Thang 2003' by the East Bay Express. No small achievement for a band that has only been in existence since 2001 and one whose formation happened partially as a result of the chance meeting of two musicians...Several reviewers have already tipped the Cowlicks as being the "next big thing," and the band certainly has the talent to achieve this and more... "


The Contra Costa Times - Berkeley Voice
Friday, January 10, 2003

Performances free, live and Down Home
Record store's next live shows to present a little alt-country, a little R&B piano

By Brian Kluepfel
CORRESPONDENT
"We play alt-country, with an emphasis on alt," joked Todd Novak of The Cowlicks. Novak's five-piece group hits the stage at Down Home Records in El Cerrito on Jan. 25 as part of the legendary store's in-house concert series.
The band has close ties to the roots music movement that many say was jump-started by the late Gram Parsons and the Flying Burrito Brothers in the late '60s.
Parsons' legend owes almost as much to his friendship with the Rolling Stones and the infamous immolation of his corpse by manager Phil Kaufman at Joshua Tree National Monument, but the handful of discs he recorded served to inspire bands like Uncle Tupelo, Wilco and others to add a hard electric edge to country/roots music.
A country edge
"When we do an in-store concert, it's almost straight bluegrass," Novak said. "If we're out in the clubs it veers into electric stuff, even beyond the Burritos. But it's always got a little country edge to it." Singer-songwriter Novak is the band's front man, and he earned his stripes on the road with Kevin Salem's band, opening for Wilco, Uncle Tupelo and others.
Other members of the group have their own road credentials. Bassist Mike Anderson was also in Big Blue Hearts, who had their debut produced by T-Bone Burnett and gigged with the likes of The Blasters, Chris Isaak and Lyle Lovett. According to the group's Web site, Anderson "is the Cowlicker most likely to be found wearing cowboy boots and a ten-gallon hat." Drummer Peter Tucker traces his roots through the Waybacks all the way to the Beau Brummels.
Ironically, the Cowlicks might have never happened if Novak hadn't wandered by Club Muse three years ago, just when the now-defunct Albany cafe began its open-mike nights. Novak holds the distinction of being the first person to ever sign up on Muse's open-mike list, and afterward formed a friendship with host John Fonseca, now a core member of The Cowlicks as well.
Sonny Smith
This Saturday's concert features Oakland singer-songwriter Sonny Smith, who, like the Cowlicks, has done his share of road work and produced his first CD, entitled "Who's the Monster, You or Me?"
Born in San Francisco to a banjo-pickin' dad and piano-playing mom, Smith has played music in Panama, Portugal and probably even Pinole. He writes novels and plays that often morph into songs, and has an eclectic range of Americana influences from writers like John Steinbeck and e.e. cummings, to such players as Taj Mahal, Memphis Slim, Michael Bloomfield and Tom Waits.
After a teenage dalliance with heavy metal bands like AC/DC, Quiet Riot and Van Halen, Smith encountered some American R&B enthusiasts on the Iberian peninsula and never looked back.
"(Listening to blues pianist) Jimmy Yancey basically taught me to play piano," he said.
"My songs tend to be character-driven, like little stories," Smith said. Rather than follow the usual three-minute pop formula, Smith specializes in 10-minute opuses, and has found an audience. "I make it funny at first, then people pay attention," he said. One mistake he will not repeat is the ill-received wedding gig he did a few years back. Drunken guests wanted dance tunes; he gave them story songs.
"Horrible," he's now able to say with a chuckle.
Smith's newest collection of songs is called "This is My Story, This is My Song," and there's a work-in-progress called "Sweet Lorraine." He continues in his eclectic approach to the arts, directing movies, writing plays, and playing solo piano gigs.
The venue
Down Home Music Store has been the Bay Area's hippest record shop for more than two decades. The store began in 1976as a spin-off of Chris Strachwitz' noted roots label Arhoolie Records, and Strachwitz remains a co-owner. Down Home features more than 24,000 titles on CD, from Zairean soukous to English sea chanteys, bluegrass to blues. There's an amazing vinyl room, as well as music videos, books and magazines. You might find it hard to squeeze down the aisles during the in-store performances, but it's well worth the trip.

--------------------------------------------------------------------------------
Brian Kluepfel is a free-lance journalist who has lived in the 'burbs, the Bronx, Bolivia and Berkeley. He can be reached at bkluepfel@hotmail.com.